BROWSE BY
CATEGORIES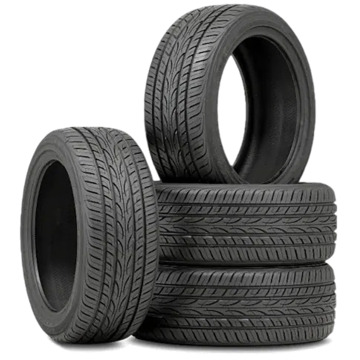 Tires
  FITMENT
Vehicle Specific
Universal Fit
---
  TYPE
---
  BRAND
---
  PRICE
$101.00  -  $20,080.00
$20,081.00  -  $40,060.00
$40,061.00  -  $60,040.00
$60,041.00  -  $80,020.00
$80,021.00  -  $100,000.00
---
Vehicle Specific
Universal Fit
229
 results
Showing: 1
 - 
36
Embrace season change with Yokohama All-Season Tires
Seasons will change, it's inevitable. But must you rush for a tire change along with? Not necessarily. All those living ways above and below the 23 ½ o North and South latitudes know that there are three types of tires- winter tires, summer tires, and all-season tires. Out of the three, all-season tires are fast gaining popularity. Even though extreme winters demand a specialized set of winter tires, all-season tires fare better than summer tires in winters and better than winter tires in summers. They lie halfway between winter and summer tires. Which in fact is a good thing in absence of extremely harsh snow-laden winters. When it comes to high-quality all-season tires, Yokohama is the name that's been around for a century. They're devoted to their craft of creating the most durable and best quality tires by employing innovative and never-heard-before materials and technologies.
Here are the key reasons to go for Yokohama All-Season Tires:
4-5 rib tread design allows for better grip, longer life, and reduced friction for a good number of miles. It also prevents small stones to get stuck deep in the grooves which can damage tire material over time.
There's even wear of tires owing to stress wear control grooves. That means less frequent tire changes, so you can enjoy a good number of extra miles before you need a new set.
Tread pattern is of utmost importance while choosing a tire. The carefully designed tread pattern of Yokohama tires ensures effective water evacuation, reducing hydroplaning and increasing tire grip on wet roads.
Meticulously engineered tread compound is made for longer life and for reducing rolling resistance. Reduced rolling resistance means increased fuel efficiency and reduced stress on engine.
AIRTEX Advanced Liner reduces air leaks and drop in air pressure, maintaining a low rolling resistance which reduces fuel consumption.
Yokohama's R&D team is always on its toes, mixing natural rubber with unthinkable natural ingredients to come up with ingeniously engineered breakthrough materials. Yokohama is committed to manufacturing eco-friendly products.
Yokohama products are backed by a century of research and manufacturing experience.
Every good thing needs to be preserved. To maintain Yokohama tires in good condition, follow these simple rules:
Never let your ride remain idle for too long. It takes a bearing on tire health and cracks may appear.
Clean them regularly.
Tire rotation and balancing is also important. Rotate tires after 6000-8000 miles.
Wheel alignment should be checked regularly. Improper wheel balancing leads to uneven wear of tires.
Get top rated Yokohama on-road and off-road tires from Parts Engine at lowest price. Also offered free shipping anywhere in Canada. Parts Engine is committed to providing top-notch automotive products in Canada.