BROWSE BY
CATEGORIES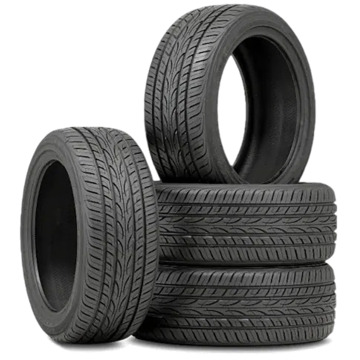 Tires
  FITMENT
Vehicle Specific
Universal Fit
---
  TYPE
---
  BRAND
---
  PRICE
$104.00  -  $20,083.00
$20,084.00  -  $40,063.00
$40,064.00  -  $60,043.00
$60,044.00  -  $80,023.00
$80,024.00  -  $100,003.00
---
Vehicle Specific
Universal Fit
216
 results
Showing: 1
 - 
36
Shop Michelin Tires In Canada
PartsEngine.ca's Michelin tires options include all-season tires, winter tires, SUV, light truck tires, and performance tires. Michelin tires have been providing tires in over 170 countries since 1880. Currently, close to 3400 Michelin employees in Canada with their own production facilities in Nova Scotia. They are leaders in innovation and they make tires locally for your specific needs and road conditions.
At Michelin, they continuously push safety, durability and fuel efficiency, and performances. Remember this, most tires can perform well in everyday conditions. It's in difficult situations that great tires make all the difference. Choose Michelin tires that can handle anything. You get great handling, superior wet traction, and long mileage without sacrificing comfort because the engineers at MARC are not content or satisfied with any sort of compromise or trade-offs.
Michelin study tire usage, your driving needs and those around the world. They develop and combine the 200 and more elements that constitute your tire. They create many designs and use simulations to choose the best tire concepts to be developed. They test their tires over 1.6 billion kilometers per year (that's 40,000 times around the planet). They expertly build each tire and invent our own machines if needed. With the confidence that all your needs are covered, you can have peace of mind and just enjoy your drive.
Michelin Winter Tires
Michelin's winter tires are tested and designed extensively to provide unbeatable handling and control in any harsh weather conditions in Canada. The Latitude and Pilot ranges are designed to get you safely through snow and ice. The MICHELIN X-ice Xi3 Winter Tires provides luxury performance touring for passenger car/ Minivan. The third generation X-ICE winter tires provide ultimate winter confidence on ice and snow. They are also designed to reduce fuel consumption. Winter performance that lasts for 60,000 kilometers. The Latitude X-ice Xi2 and Lattitude Alpin are designed for crossovers and SUV to cruise smoothly and quietly, with better traction in all winter conditions. Pilot Alpin PA4 tires are high-performance winter tires. They are tailored for luxury vehicles and high-performance cars. They feature StabiliGrip, a 3-D sipe technology that provides more rigidity for better handling and braking on ice, snow and black roads. with 50% more gripping edges, the tread pattern provides ultimate efficiency in both lateral and longitudinal grip, while the high-density sipes provide excellent snow and ice traction.
Michelin All-season tires
Michelin has different models of summer and all-season tires that are known for their traction in wet and dry conditions. Like Michelin defender tires are their best standard all-season tires for passenger car and minivan, offering 145,000km of confident driving with exceptional safety, longevity, and a quiet comfortable ride. PREMIER A/S tires are safe when new, and safe even when worn, all-season long.
Light trucks, SUV and CUV tires
Michelin's SUV and light truck tires are designed to prolong wear and offer great fuel efficiency while providing traction and stability in a range of conditions. The LTX range is great for light trucks, and the Diamaris range is outstanding for SUVs and CUVs.
High performance tires
Michelin Pilot Sport- #1 in dry/ wet braking, #1 in dry/wet lap time. Extreme grip and precision performance to enjoy your daily drive. Michelin Pilot Sports tires are used by some of the best competitive sports car makers in the world, such as BMW, Ferrari, Chevrolet, Gumpert, and Porsche. Micheline Energy Saver Performance Tires provide you with a safe, comfortable ride while maximizing fuel efficiency. Primacy range is perfect for luxury vehicles. Other options include Michelin Primacy MXV4, Energy LX4, Energy Saver A/S. Michelin Premium tires use EverGrip technology, this revolutionary technology includes grooves hidden in the rubber that emerges as the tire wears down and expanding rain grooves that widen over time both providing extra water evacuation. Plus there's a high- traction compound with an extreme level of silica for incredible wet grip and sunflower oil to keep the tread flexible and effective in the cold weather
Find the latest Michelin Tires at PartsEngine.ca. From high-performance to energy saving tires, Michelin Tires has what you need to keep you safe on the road in dry/wet conditions. Partsengine.ca Offers Free shipping anywhere in Canada, all products sold comes with 365 days return and lowest price guarantee.