Dee Zee Red Label Double Lid Gull Wing Tool Box
CANADIAN OWNED
IN ONTARIO
STARTING FROM
CAD
673.36 - 912.27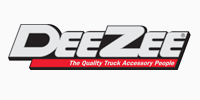 Dee Zee Product Expert is nline !
Product features:
Dee Zee Tool Box - Red Label Double Lid (Gull Wing) Crossover. Constructed of heavy duty Brite-Tread aluminum. Black-Tread powder coat, provides a gloss black finish while it protects and prevents oxidation. Crown style lid for superior rigidity. Other features: lockable stainless steel paddle handles, dampened gas shocks, closed cell foam gasket, and self-adjusting strikers. Removable plastic tool tray to help keep small items organized.
A closed cell foam gasket defends the inside of the box against outside elements while a crown style lid and double v-pan lid stiffener create strength and rigidity throughout.
When you open your toolbox a lot, you want a lid that can handle the abuse. That's why we equip our lids with dampened gas shocks for even opening and self-adjusted strikers to ensure silky smooth closing. A hidden full-length hinge keeps the lid movement feeling solid.
The job site can get messy, but that doesn't mean your truck box needs to. Our removable plastic tray is the perfect way to keep smaller hand tools and other items from getting buried below larger tools and easily mounts to the top of box for quick access.
Non-Rusting .056 Brite-Tread Aluminum

Lockable Stainless Steel Paddle Handle or Pull Handle Latches

Internal Bends Add Superior Body Strength

Closed Cell Foam Gasket Helps Resist The Elements From Getting Inside The Box

Dampened Gas Shocks Open At A Steady, Controlled Rate

Crowned Lid With Full Length Hidden Hinge

Self-Adjusting Lid Strikers For Secure Closing

Double V-Pan Lid Stiffener Creates Strength and Rigidity

Front, Back and Bottom Are Bent From A Single Piece Of Aluminum

Removable Plastic Tool Tray To Keep Smaller Items Organized

Made In USA

 TRUSTED CANADIAN REVIEWS: