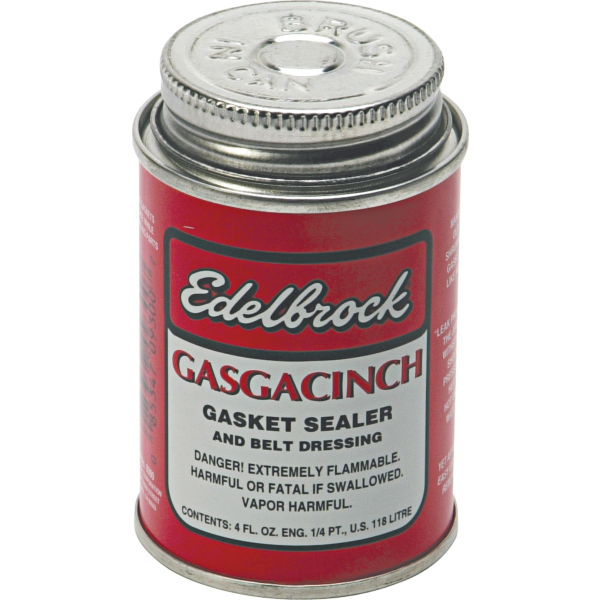 Edelbrock Gasket Sealant
365 DAYS RETURN
GUARANTEE
CANADIAN OWNED
IN ONTARIO
 Clearance price. While Supplies Last.
Canada Day Sale | Save 10% Site-Wide
  SEE PRODUCT OPTIONS   ADD TO CART
Edelbrock Product Expert is nline !
  Edelbrock Gasket Sealant SKU Listing / Specs
| Purchase | Part Number | Image View | Name | Detail Specs | UPC |
| --- | --- | --- | --- | --- | --- |
| | |  Enlarged View | Edelbrock Gasket Sealant | | 85347093007 |
Edelbrock part #9300 Gasgacinch gasket sealer assures proper sealing of all gaskets used during a manifold installation. It is also effective on water pump, oil pan and valve cover gaskets. Gasgacinch is water and oil resistant and allows easy gasket removal during parts disassembly.
Vic Edelbrock Sr. always had a natural talent for auto mechanics ever since he had to drop out of school at 14 to support his family. It was this talent that laid the foundation for the company we know as Edelbrock today. From developing the first single engine streamliner to go over 200mph to creating the first manifolds of the Pontiac and Chrysler engines, Vic Sr was a man to be reckoned with in the automotive industry. Vic's philosophy for "proven performance" has remained the core of the Edelbrock company's culture since 1938.
?
With over six locations totalling 500,000 square feet: Three in Torrance California, two in San Jacinto, California and one in Sanford North carolina, Edlebrock has continuously invested in state of the art facilities with their headquarters in Torrance, California being their hub for diligent testing, manufacturing, R&D, advertising and tech support.
?
In the 80's and 90's the Edelbrock corporation diversified their product line with carburetors, camshaft kits, exhaust systems, engine accessories and more and now they make many of the lubricants and superchips for your engines. At Partsengine.ca we want to provide Canadians with the highest quality aftermarket parts that will improve your engines' performance and contribute to your vehicle's ultimate appearance.
 TRUSTED CANADIAN REVIEWS: