MagnaFlow XL 3 Chamber Muffler
CANADIAN OWNED
IN ONTARIO
STARTING FROM
CAD
125.30 - 200.54
20% off MSRP on Magnaflow Products, and the Discount will Show at Checkout.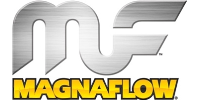 MagnaFlow Product Expert is nline !
Product features:
MagnaFlow XL Mufflers use a unique combination of large diameter perforated tubing and strategically placed sound baffles to reduce unwanted resonance and help your engine create horsepower. The sound baffles tune the sound waves using calibrated tuning gate openings that allow portions of the waves to pass through. These tuned waves reflect off the back wall of the muffler and cancel out unwanted harsher sounds. The large diameter perforated core eliminates the flow restrictions of a louvered style core. A careful balance between perforation size/spacing and the baffle tuning gate make for a great 3 chamber performance muffler.
Muffler Shape: Varies
Muffler Configuration: Varies
Muffler Type: Multi-Chamber
Muffler Material: Stainless Steel
 TRUSTED CANADIAN REVIEWS: