MagnaFlow Pro Series Exhaust System
CANADIAN OWNED
IN ONTARIO
STARTING FROM
CAD
336.97 - 1099.00
20% off MSRP on Magnaflow Products, and the Discount will Show at Checkout.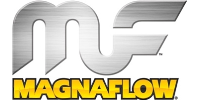 MagnaFlow Product Expert is nline !
Product features:
The PRO DPF Series has lifetime backed stainless steel construction, a muffler-less design and mirror polished welded intercooled tips. The best value system with a no hassle emissions legal design.
 TRUSTED CANADIAN REVIEWS: